Biosecurity newsletter
Autumn 2019 | Issue 2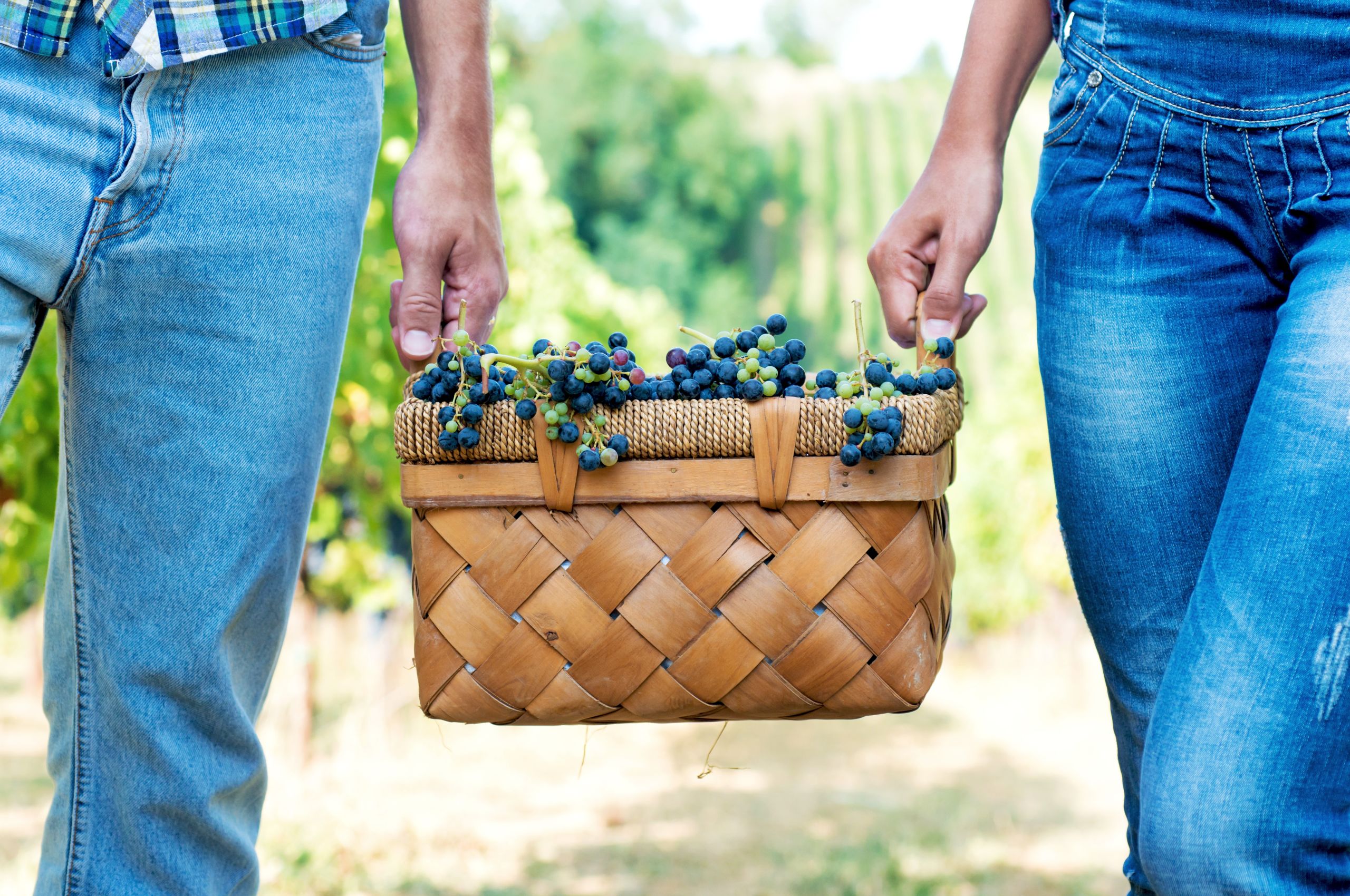 Welcome to the autumn edition of our Biosecurity Newsletter
As always, it's been busy in the world of biosecurity. NSW DPI vets have been visiting Nepal, building their knowledge of how other countries are managing foot and mouth disease; rogue cane toads were found in the Hunter; we carried out a big surveillance program with our partners to determine the spread of yellow crazy ant in Lismore; and we launched our 'Most Unwanted' community surveillance campaign.
Foot and mouth disease is the biosecurity threat our livestock producers fear most with estimates putting the cost of an outbreak at $50 billion over a decade. We are free of foot and mouth disease in Australia, but we are always working hard to make sure we are prepared if it ever reaches our shores. That is why we keep our staff trained and make sure they have first hand experience by visiting countries that are battling this disease, like Nepal.
Six hundred homes were door knocked in Lismore in February to determine whether yellow crazy ant has spread beyond the already identified infestations. More than 60 people from state and local government and community volunteers joined the eradication effort. The diversity of those lending a hand shows how the Lismore community has united to keep their community free of this harmful invasive pest. And the good news is, we have contained the spread.  
In January, we launched our 'Most Unwanted' surveillance campaign to encourage people across NSW to let us know if they see a strange exotic animal in the environment. The campaign focuses on the Asian black-spined toad, veiled chameleon, boa constrictor, green iguana, American alligator, Indian palm squirrels, Asian house gecko and African pygmy hedgehog. I'm excited by the community response! We've had about a significant increase in reports about strange animal sightings over the campaign period! It's great to see people jumping on board and playing their part in keeping NSW free of pests and disease.
If you haven't seen the campaign you can find it on Facebook by searching NSW DPI Biosecurity.
Thanks for reading,
Bruce Christie
Deputy Director General, Biosecurity & Food Safety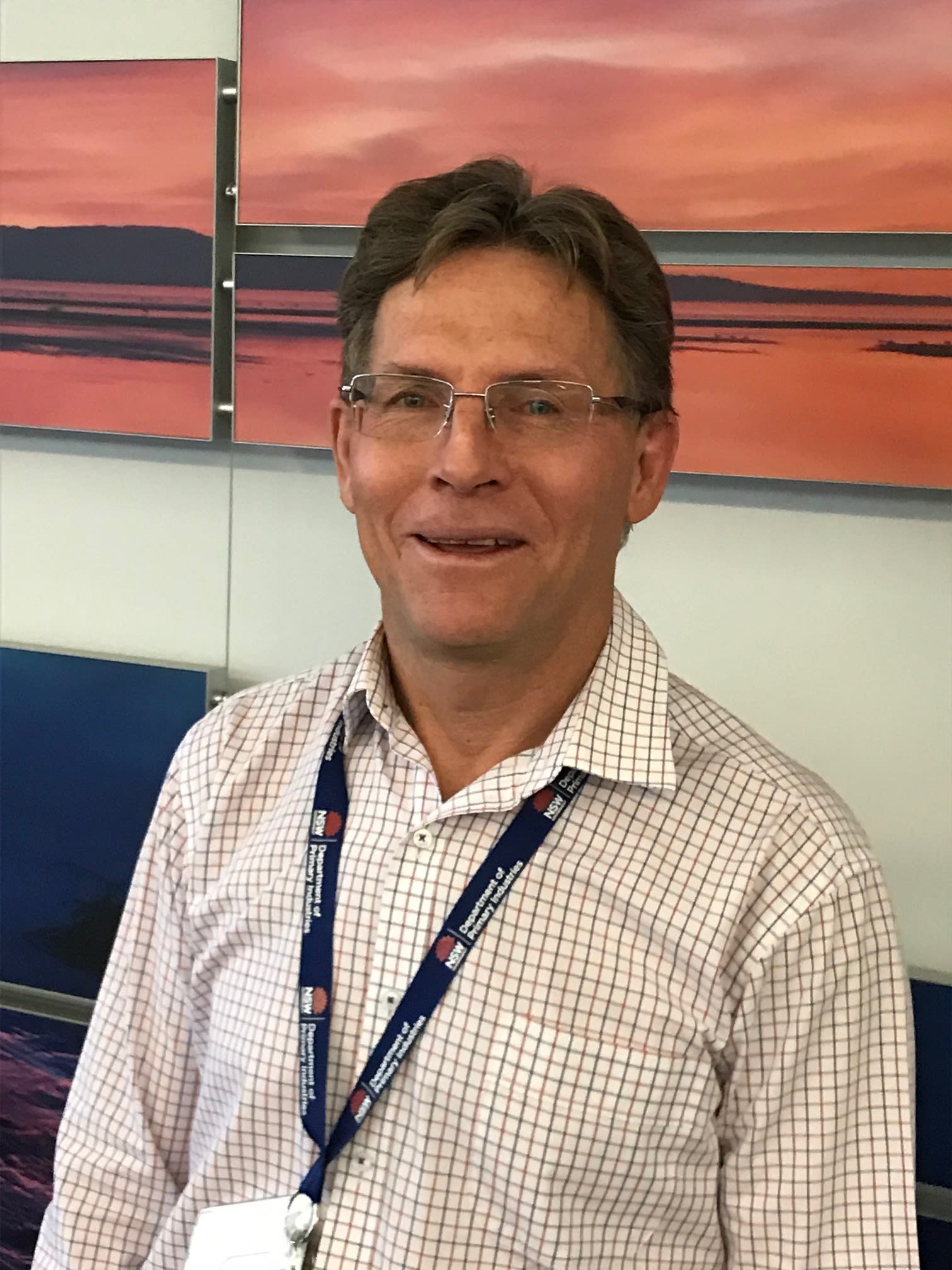 Biosecurity: keeping F.O.O.D on your fork
Biosecurity plays a crucial role in making sure our farmers can continue to produce the finest foods the world has to offer. And right across NSW DPI, we are committed to building productivity in our primary industries.
This year the Department helped our producers showcase their produce as the major sponsor of Forage. Forage is the signature event of Orange F.O.O.D Week, which has built a reputation as one of regional NSW's premier food and wine festivals.
During the event, Forage guests stroll for four kilometres through picturesque vineyards set in the foothills of Mt Canobolas. Along the way Foragers enjoyed a nine course degustation menu of local wine and tasting plates, all the while enjoying live music.
Thousands of enthusiastic visitors were a boon for region and its producers, but they also brought with them the risk of the accidental introduction of pests and disease.
The central tablelands is known for its vibrant young wine industry and one of the biggest threats to this developing industry is grapevine phylloxera.
Phylloxera are small aphid like insects that live and feed exclusively on the roots of grape vines and are regarded as the world's worst vineyard pest.
Phylloxera are now present in most of the world's wine producing regions after the movement of infected vines in the 1800s.
As major sponsors of the event, NSW DPI provided Orange F.O.O.D Week organisers with biosecurity advice to help keep the blossoming wine industry phylloxera free.
Visitors were asked to enter Forage via foot baths which were filled with disinfectant solution. Information was provided to visitors to explain the importance of this process through the display of signage, social media and emails in the lead up to the event.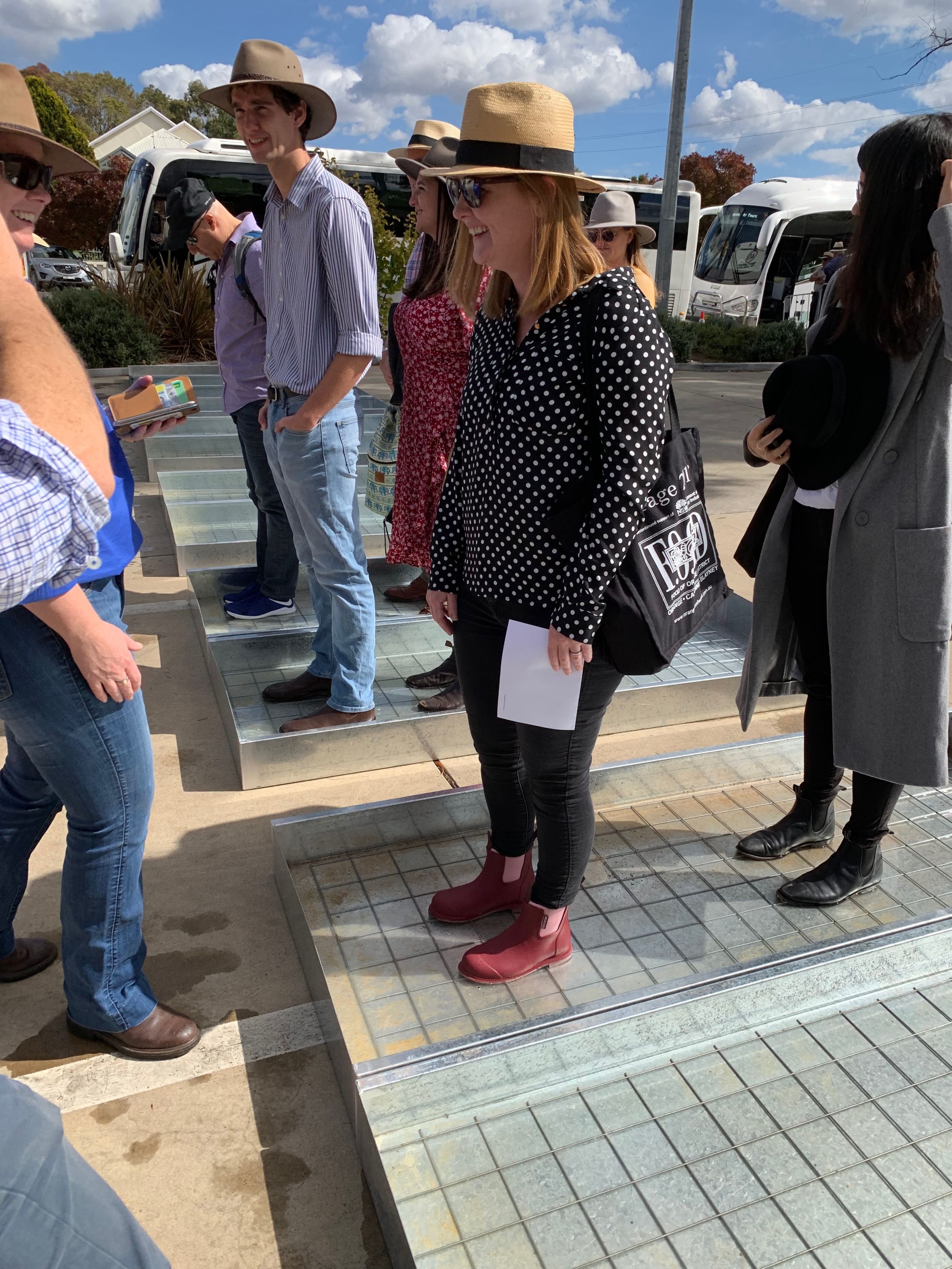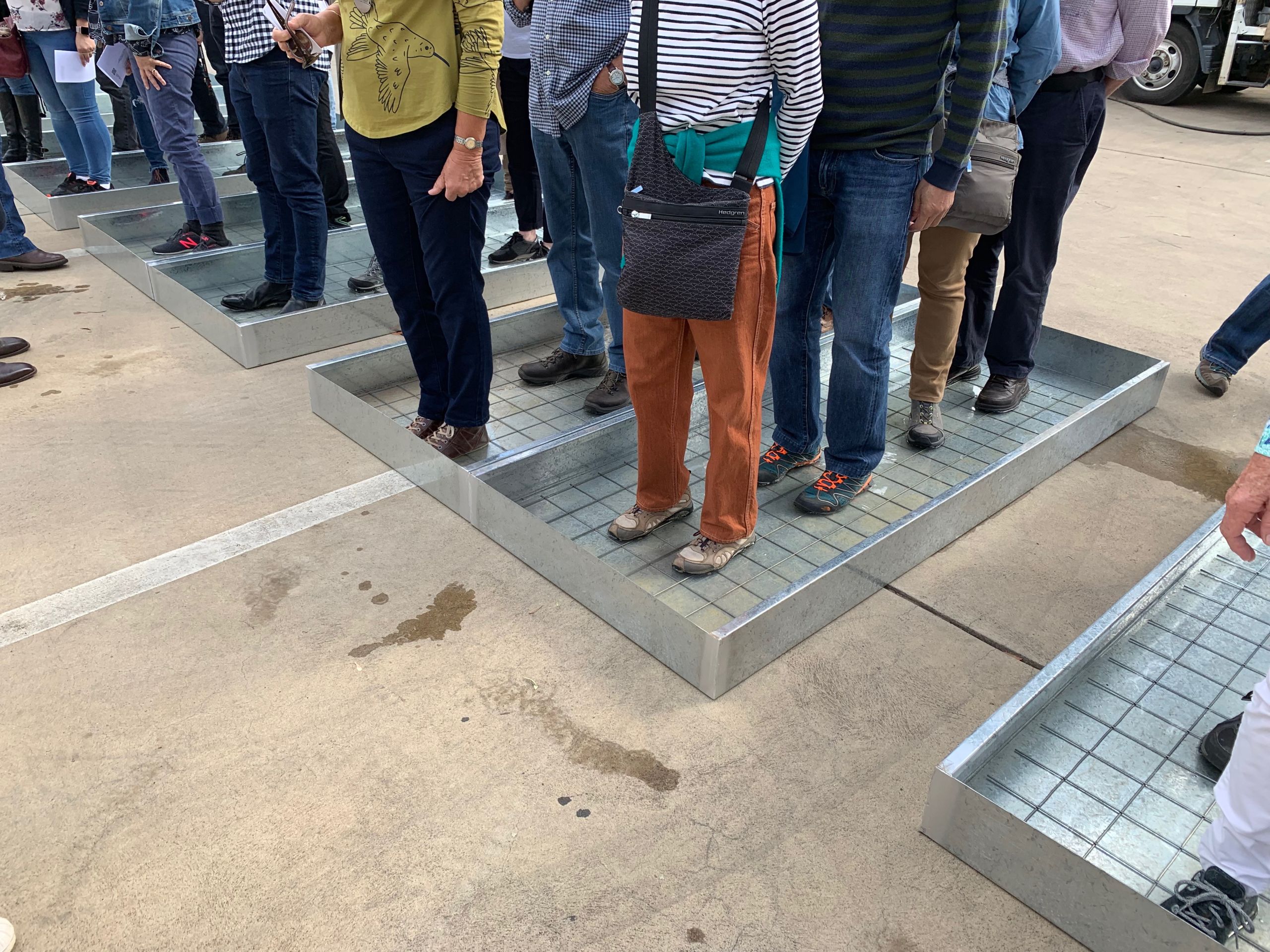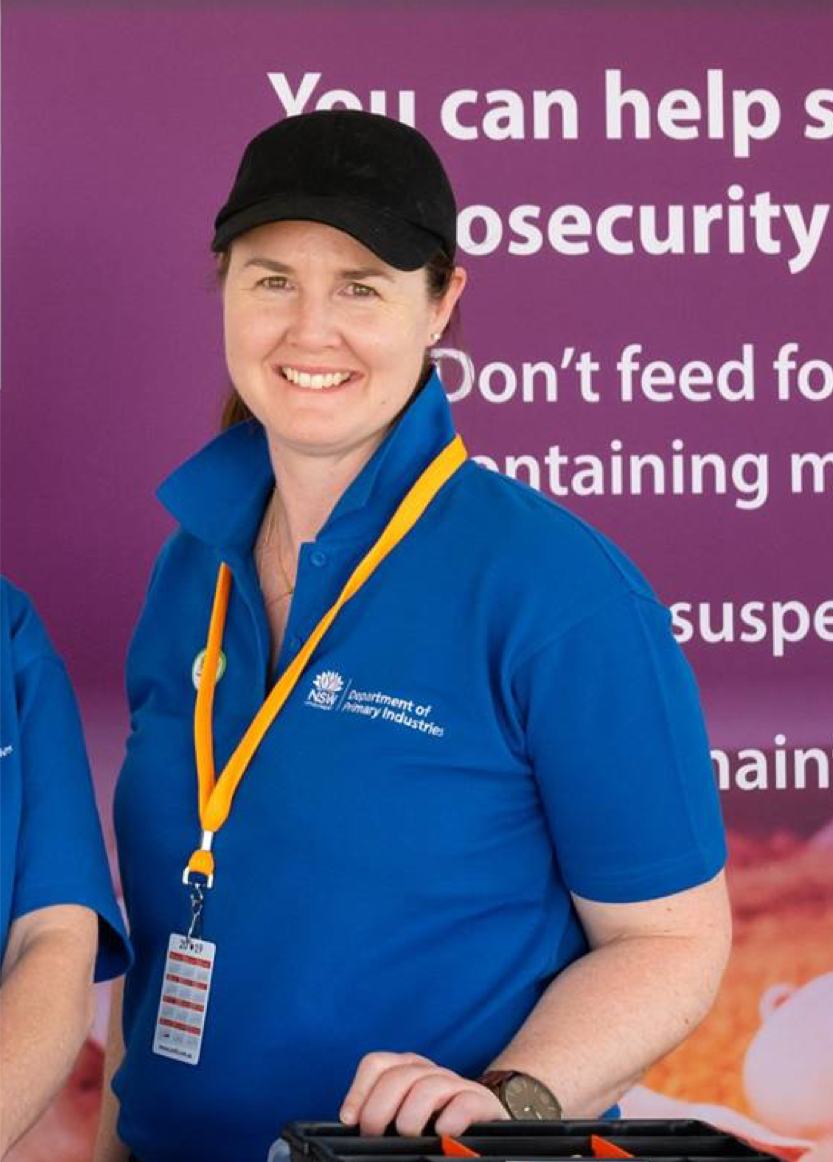 Meet our Peri Urban Program Coordinator
Name: Nic Schembri
Occupation (and description): Peri Urban Program Coordinator - The NSW Peri Urban Biosecurity Partnership
Department: Biosecurity and Food Safety
What are three words you'd use to describe your current job? Collaborative, Frontline, Rewarding
What do you like most about your job/working at NSW DPI?Interdepartmental and interagency collaboration to support smallholders and communities around our key ports to improve biosecurity practices for better agricultural outcomes.
What are some of the challenges of your job?
Engaging with stakeholders who may not see biosecurity as part of their core business and landholders who may not see biosecurity as a priority.
What project are you currently working on?
An exploratory study to better understand current roles of biosecurity and pest surveillance and reporting practices in the import logistics and transportation sector to develop targeted training and engagement and effect positive biosecurity behaviour change within the industry.
What are your top three career highlights?
NSW DPI Biosecurity and Food Safety Award
Completing a PhD on Peri-urban and regional pig biosecurity and traceability in eastern Australia
Effecting positive biosecurity behaviour change among urban and peri-urban landowners
How do you maintain work/life balance?
Living in Sydney with two young daughters, a busy husband and an energetic puppy keeps me on my toes; work/life balance is a constant challenge for us so we set aside down time when we can just hang out, read and drink coffee!
Before working at NSW DPI, what was the most unusual or interesting job you've had?
I spent some time at a wildlife park working with the sea lion and penguin training team and looking after the African and Asian animals, including shovelling elephant dung.
What does leadership mean to you?
Being innovative and inclusive, able to clearly communicate vision and support your team to achieve shared outcomes.
What are your hopes for our industry?     
Everyone has a part to play in keeping exotic pests and diseases out and report anything unusual to protect our agricultural industry. Biosecurity as a shared responsibility is a concept I am very passionate about. Through the Peri Urban Biosecurity Program my hope is this message becomes a way of life for those who live in and around our ports, urban and peri-urban areas whether they have a backyard veggie patch, a few livestock or reside in regional agricultural districts.
If you're heading to a show, say hello
Regional and state-wide shows are a chance for our communities to show off the best they have to offer and NSW DPI is proud to have been a part of the action.
This year we visited Camden and Sydney Royal Easter shows and will be visiting the Hawkesbury show so you can find out more about our work and what you can do to support good biosecurity in NSW.
The Camden Show attracts approximately 40,000 people over two days and was held on 5 and 6 April.
Those attending the show had the chance to get a look inside the Elizabeth Macarthur Agricultural Institute (EMAI), a world leading scientific facility on the frontline of biosecurity in Australia.
EMAI veterinary laboratories are the critical first line of defence in the detection and diagnosis of emergency animal disease, as well as conducting research into animal pathology, virology, microbiology, immunology and parasitology. The plant laboratories provide research and diagnosis for the early detection, reduction, management and eradication of harmful plant pests and diseases. Who knows, perhaps a visit to our stall even inspired the next generation of scientists!
The Sydney Royal Easter Show was the highlight of NSW DPI's show circuit and provided the opportunity for us to meet with 850,000 people. The NSW DPI stand showcased recreational fisheries, commercial fishing and aquaculture. NSW DPI claimed a ribbon after taking out gold in the commercial exhibitor awards!
Hawkesbury Show will be held between 10 and 12 May and the region's high number of small landholders makes the event a perfect place to spread the biosecurity awareness message.
The NSW DPI stand will see participants able to access information on how to keep their property weed free, how to care for farm animals and protect them from diseases and how to manage other biosecurity risks.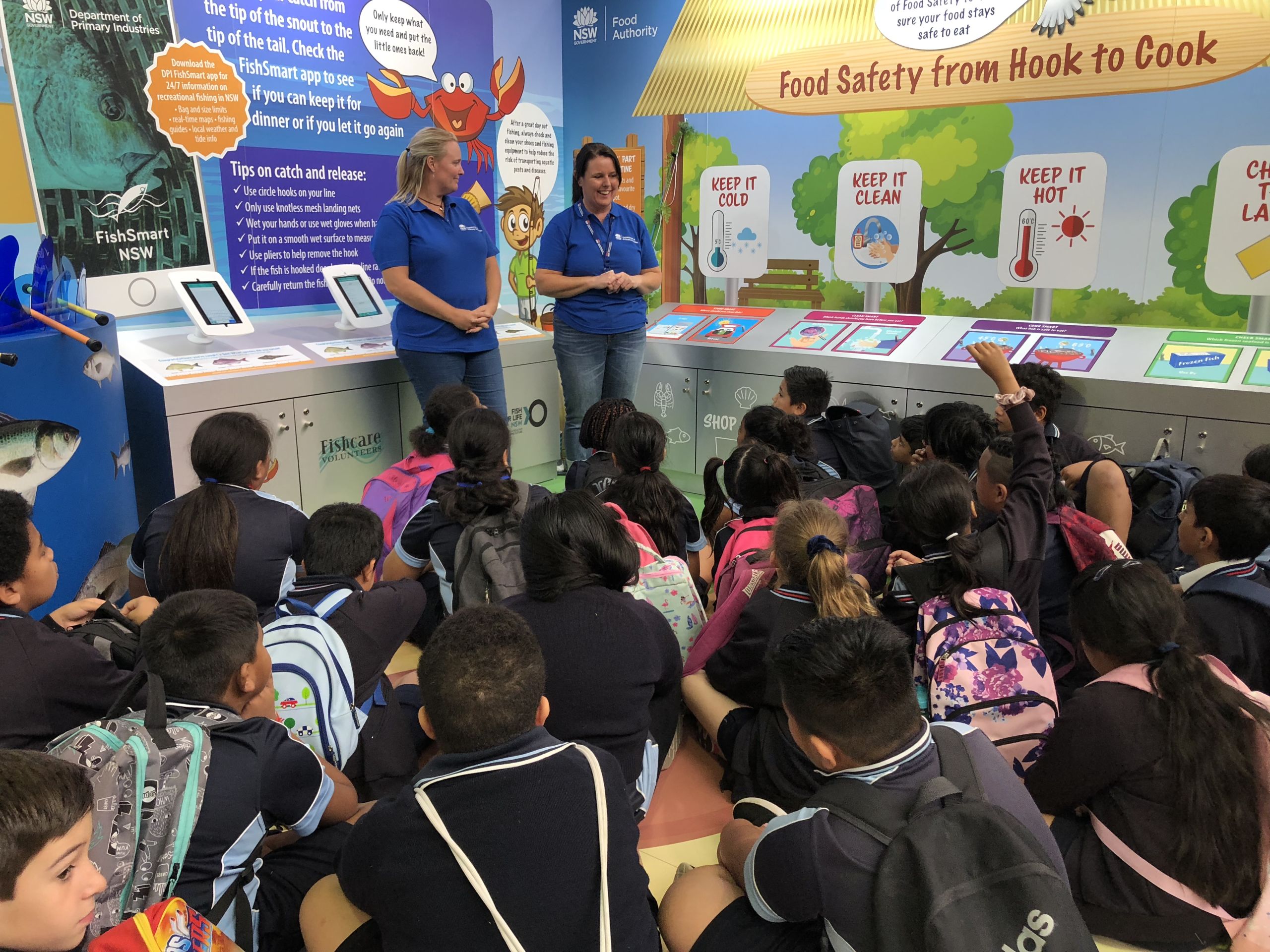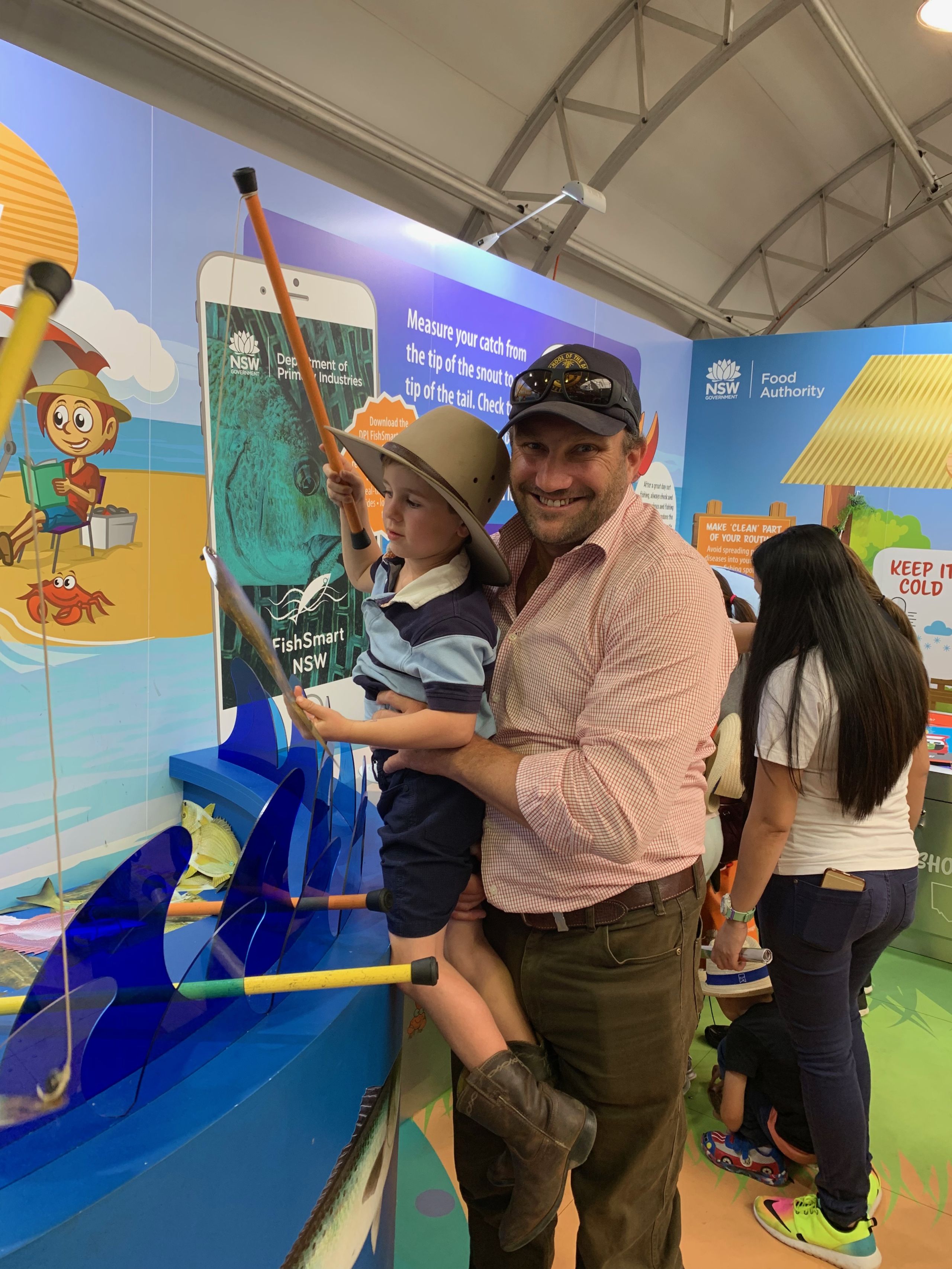 Autumn seasonal pests and diseases - be on the lookout!
Autumn is a time when pests and disease become less prevalent. But there's still plenty to keep eyes out for.
Brown marmorated stink bug (BMSB)
What is it?
Brown marmorated stink bug (Halyomorpha halys) is an exotic plant pest. BMSB feeds on a wide range of fruit and vegetables resulting in produce that is unfit for sale. Over autumn and winter it seeks shelter in buildings and equipment.
What does it look like?
The distinct features of adult BMSB are the white bands on the antennae, sides of the abdomen and on the legs. Stink bugs emit a pungent odour when disturbed.
There are a number of Australian native stink bugs which are similar to BMSB.
How is it spread?
Between September and April the bug is known to stow away in cargo coming from the northern hemisphere. To manage the risk posed by BMSB to Australia, surveillance and treatment has been heightened on selected imports shipped to Australia. BMSB is a highly mobile pest which can move from host to host during spring and summer.
Where is it found?
BMSB are native to Asia but have been introduced to the United States, Canada and Europe. BMSB is not present in Australia, but has been intercepted at our border.
In NSW it was detected in a shipment of imported electrical equipment in 2017. After a 12 month eradication campaign, NSW was declared BMSB free in August 2018.

What is the potential cost to Australia?
Due to the damage BMSB causes to fruit and vegetables, this harmful exotic pest poses a serious threat to Australia and NSW's $1 billion horticulture industry.  It is also a nuisance because it invades homes, buildings and equipment over winter seeking shelter.
How do I report it?
If you suspect BMSB, report it immediately to NSW DPI. Take photos and if you can, safely catch it to help minimise the risk of this pest spreading.
Citrus canker
What is it?
Citrus canker (Xanthomonas citri subsp. citri) is a highly contagious bacterial disease affecting citrus. It is a notifiable plant pest in NSW.
What does it look like?
Symptoms first appear on the leaves of citrus trees. Citrus canker is characterised by small yellow marks the size of a pinhead which develop into pimply, watery dots. These can then develop into scabby lesions or cankers. Infection causes lesions on the leaves, stems, and fruit of citrus trees, including lime, oranges, and grapefruit.
How is it spread?
Wind-driven rain and water splash are the primary means of short distance spread of citrus canker bacteria within and between trees. Long distance spread occurs through the movement of infected plants or plant parts including nursery trees and propagation material. Cyclones and severe weather events that include strong winds and rain can spread citrus canker long distances.
Where is it found?
Citrus canker is not present in NSW. It has been detected in the Northern territory and Western Australia. These detections have prompted a nationally coordinated eradication effort that includes movement controls and quarantine measures designed to prevent further spread.
What is the potential cost to Australia?
Citrus canker poses a serious threat to Australia's $462 million citrus industry.
How is it treated?
There is no cure for citrus canker. Prevention is the only option to protect against citrus canker.
How do I report it?
If you suspect symptoms of citrus canker, report it to NSW DPI.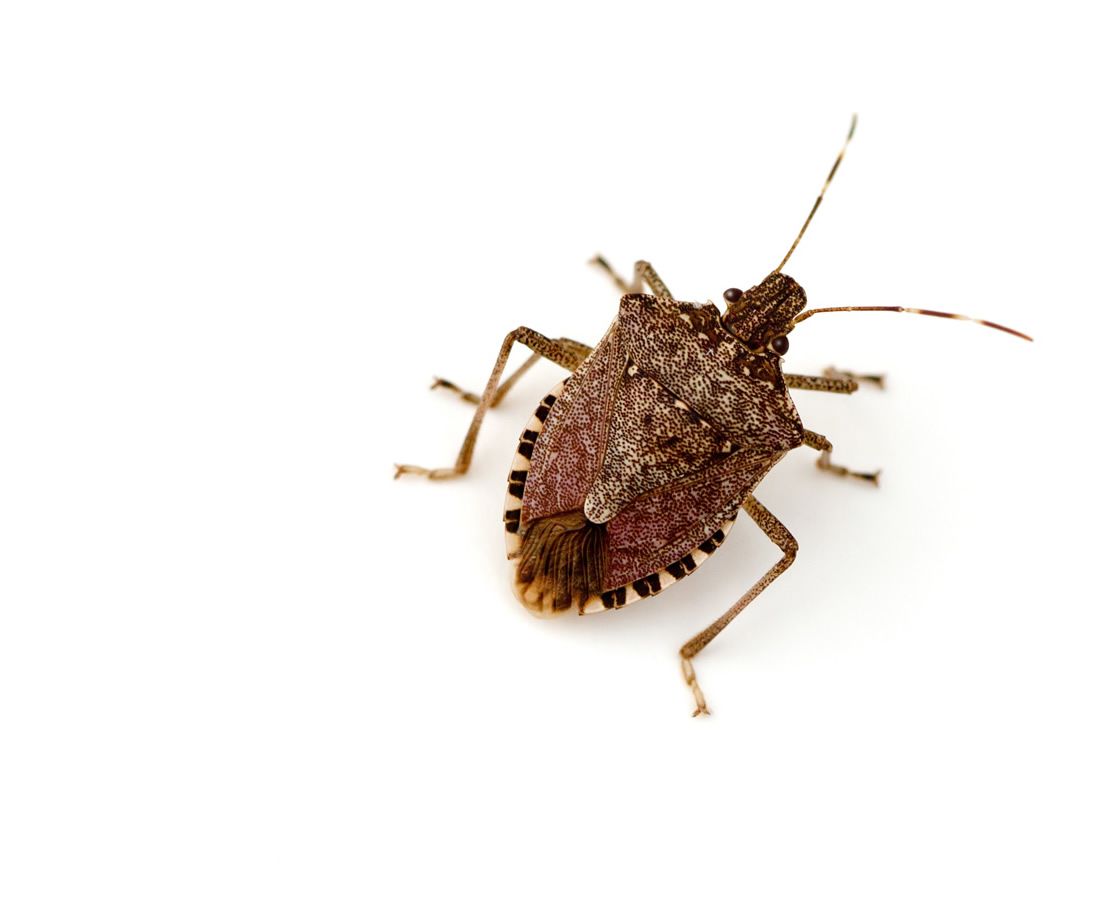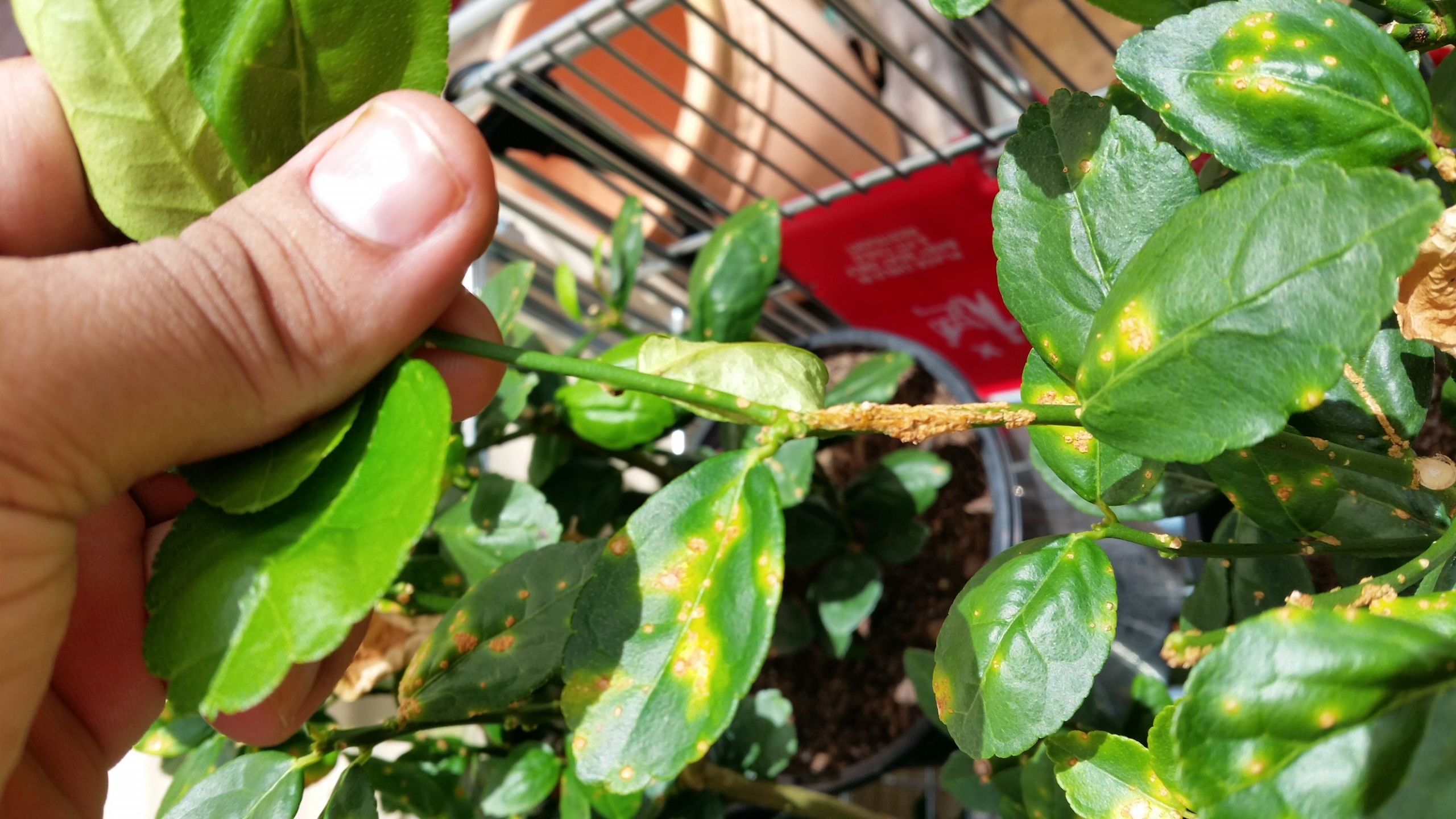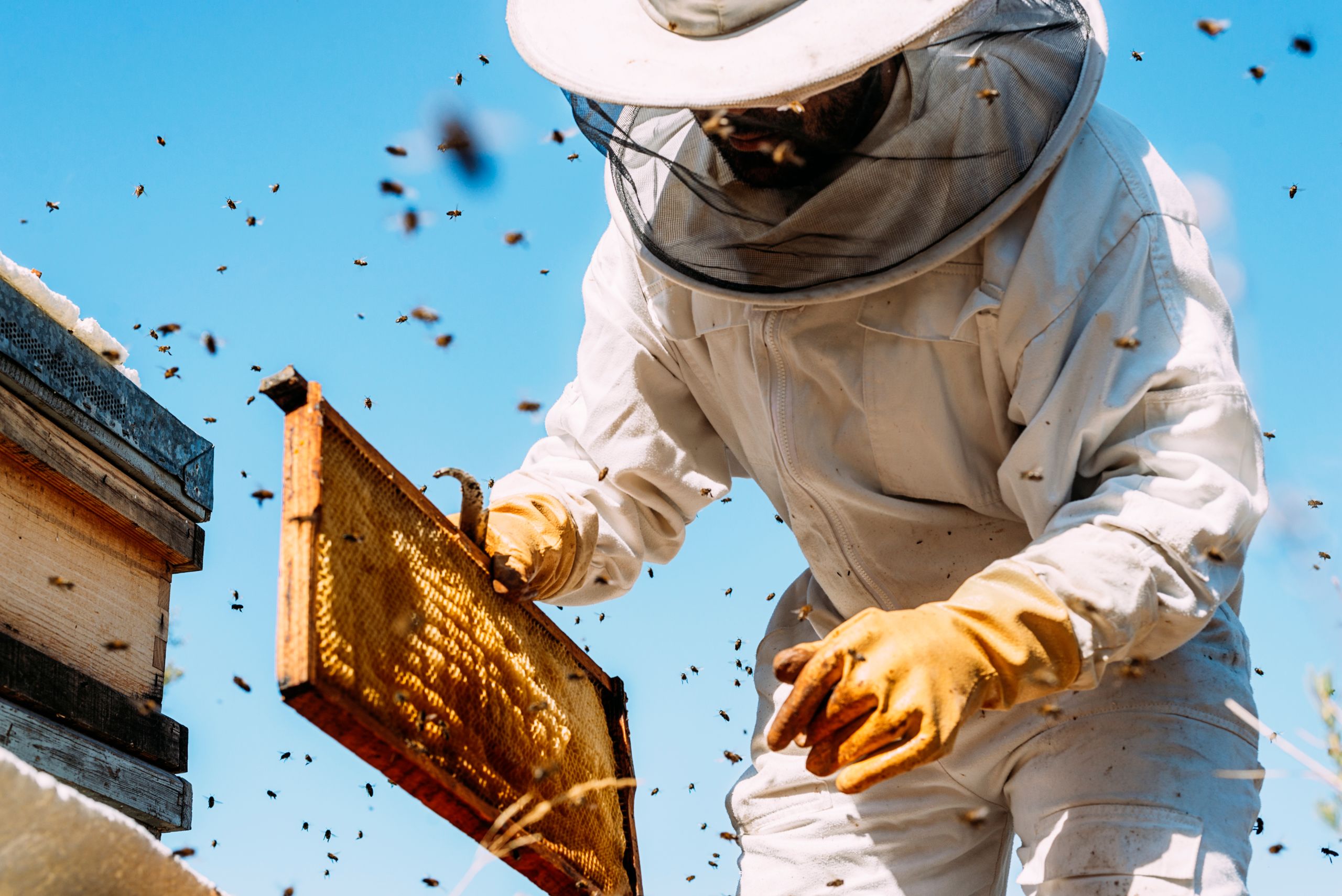 Beeing biosecurity aware
NSW Department of Primary Industries' bee experts recently featured in the latest hit ABC television series.
The two part Great Australian Bee Challenge went to air in January and showcased four teams of amateur beekeepers working to establish and keep their own hives.
The show provided an insight into the intricate and delicate world of bees by exploring the latest in bee science.
NSW DPI Bee Biosecurity Officers, Mark Page and Rod Bourke, represented the department and were there to provide advice on bee biosecurity.
Mark spoke about biosecurity issues including varroa mite and American foulbrood. He introduced viewers to varroa mite monitoring activities at Port Botany including floral sweeping and sentinel hives.
Varroa mite is a parasite and is considered the number one threat to our bees and beekeeping industry. The pest affects every major beekeeping area of the world except Australia.
Rod focused on American foulbrood and explained the importance of hive inspection and registration. American foulbrood is a highly infectious disease of bee larvae and bee pupae that is caused by spore forming bacteria.  He also spoke about bee husbandry and building a healthy bee population.
With the number of beekeepers in NSW continuing to grow, the program helped raise awareness of biosecurity measures that help keep state's 8000 registered beekeepers in business and honey flowing for each and every one of us.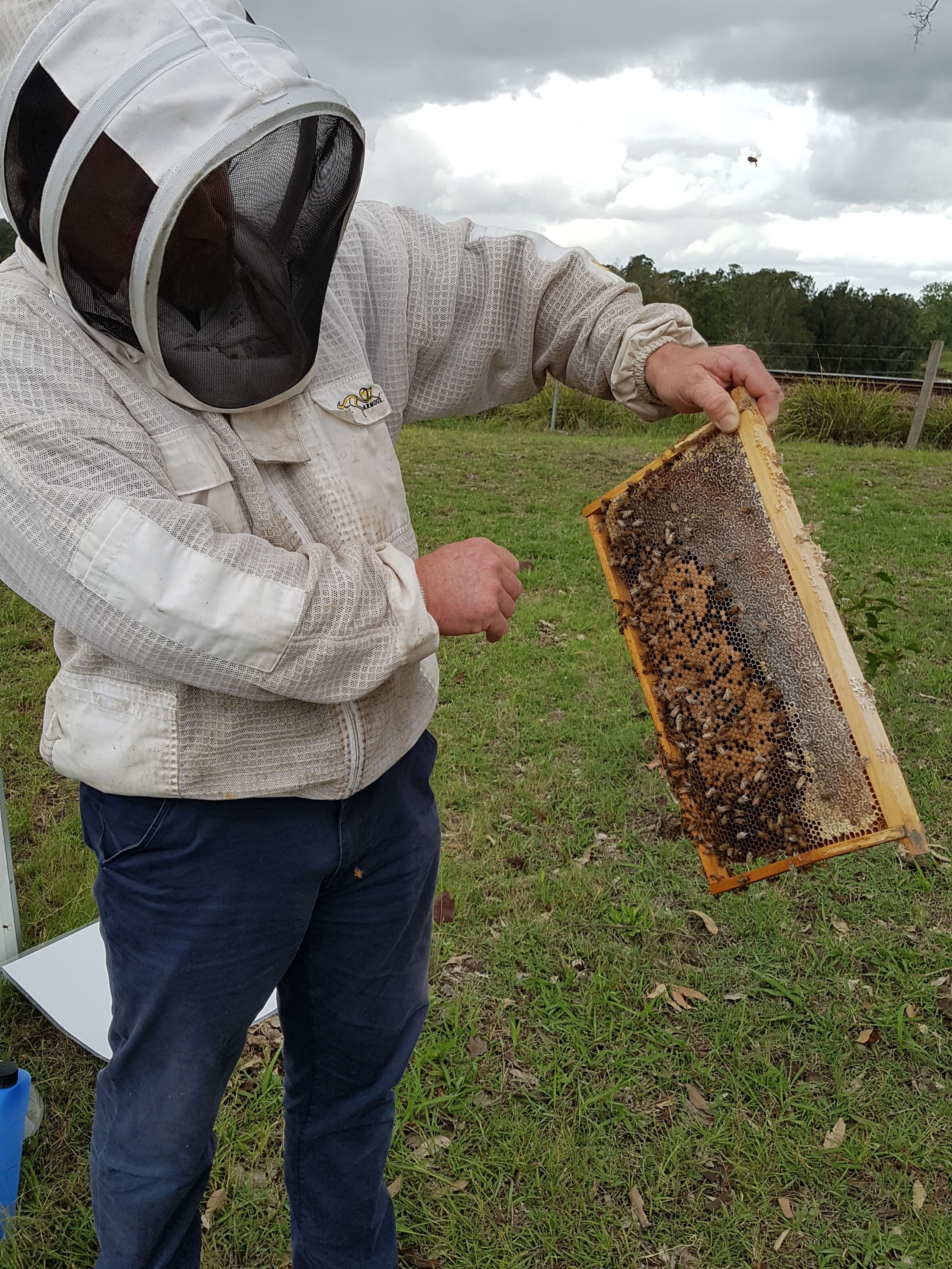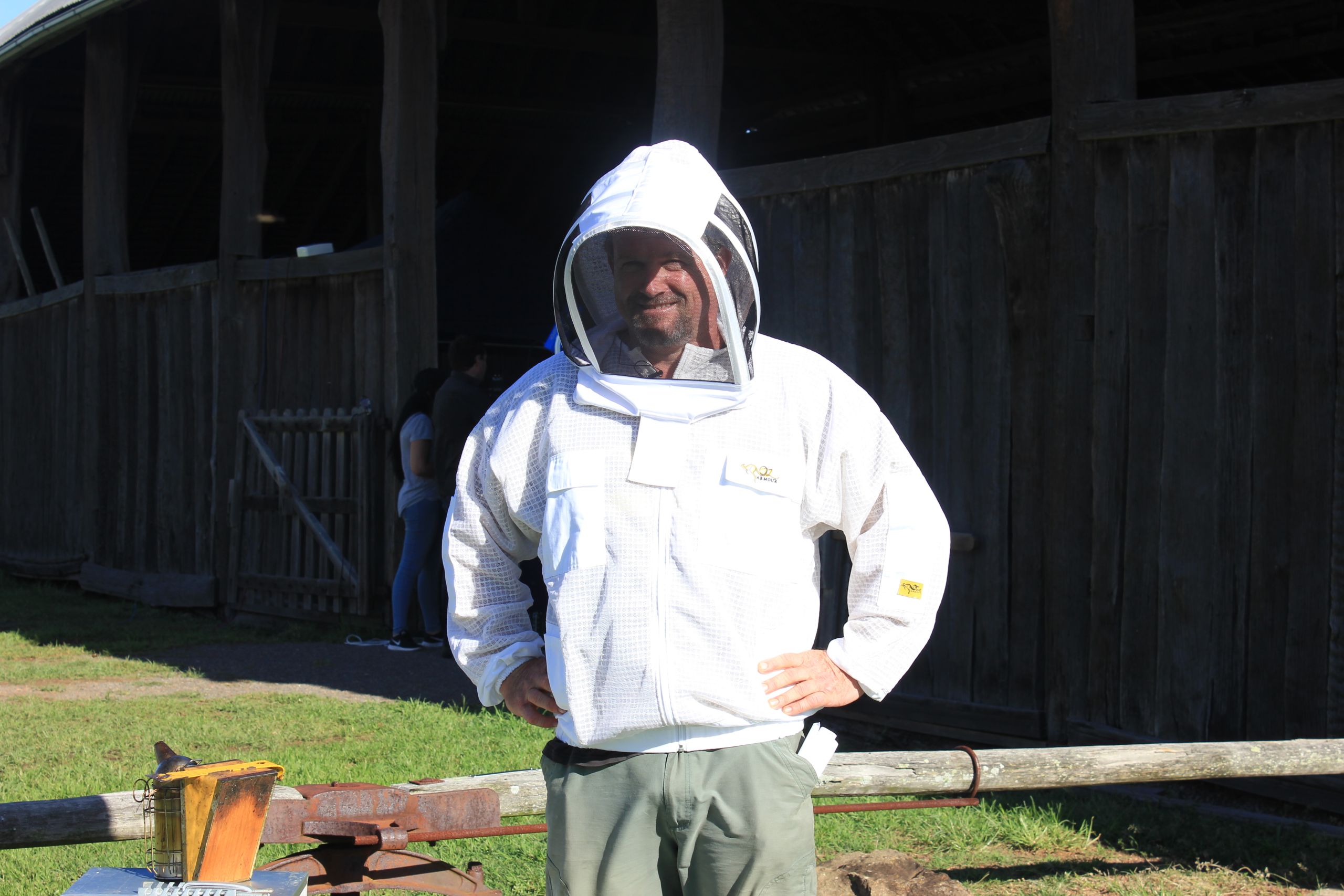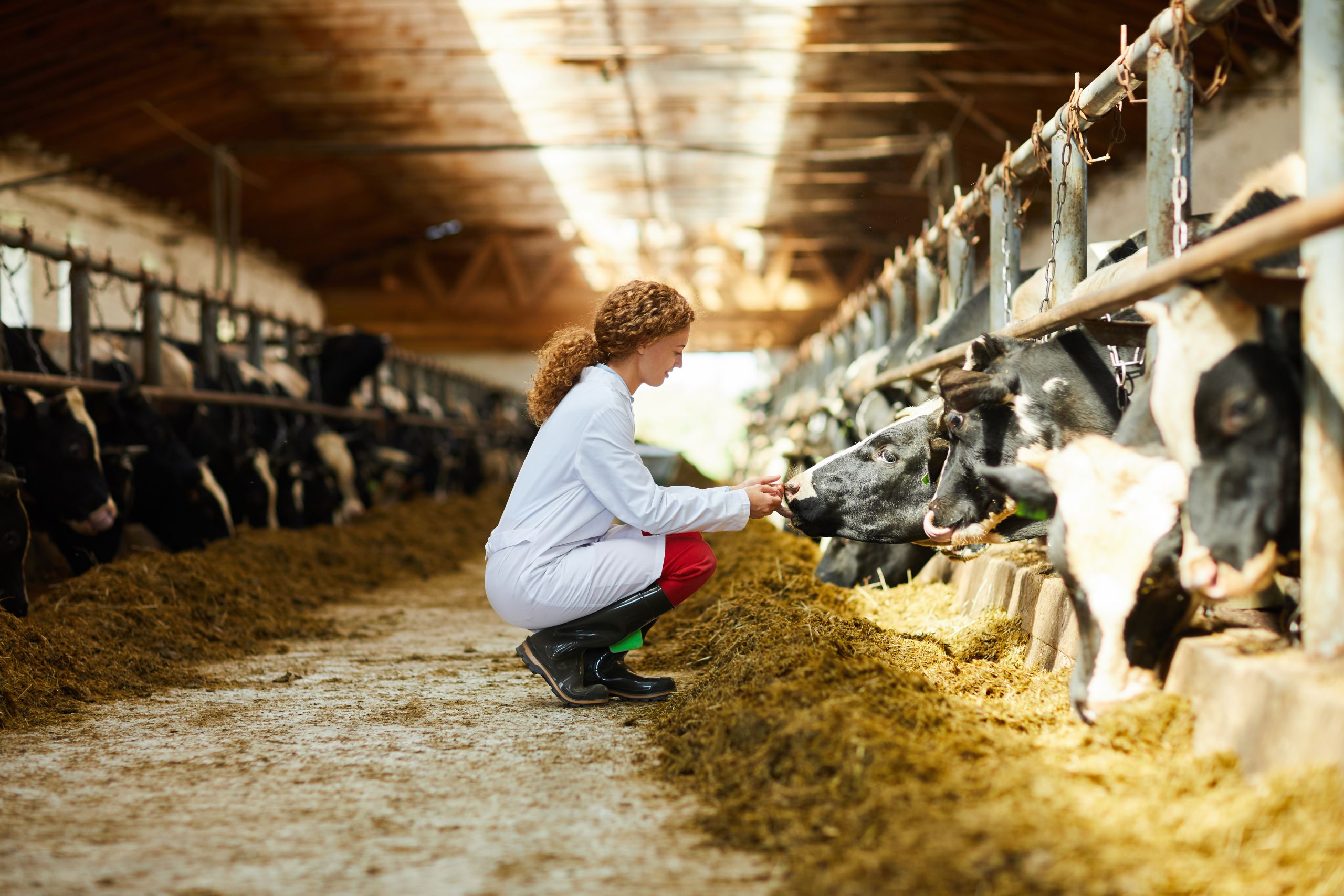 Hands on in the fight against foot and mouth disease
It's not every day Australian vets have the chance to experience first-hand the impacts of foot and mouth disease. But three NSW DPI and Local Land Service (LLS) staff have spent five days gaining practical experience that will prove invaluable should the disease ever find its way to Australia.
Foot and mouth disease (FMD) is one of the most serious threats facing livestock production in Australia and estimates put the cost of a severe outbreak at more than $50 billion. It is a highly contagious viral disease that affects cattle, buffalo, camels, sheep, goats, deer and pigs and causes fluid filled blisters and erosions in between hooves and on the mouth, nostrils and teats.
The NSW DPI and LLS staff travelled to Nepal as part of a delegation brought together by the European Commission for the Control of Foot and Mouth Disease, an organisation dedicated to the fight against foot and mouth disease. Nepal was selected as the location because the disease is regularly found in the country and the trip was supported with funding from the Food and Agriculture Organisation of the United Nations (FAO) and the federal government's Department of Agriculture and Water Resources (DAWR)
The vets and other participants learnt about applying full biosecurity measures, examining affected animals, taking laboratory samples and carrying out epidemiological interviews with farmers. These skills would help us detect, diagnose, trace and eradicate an outbreak of foot and mouth disease in the shortest time and with the least possible impact.
Thirty-two courses have been conducted over the last eight years with the aim of building a network of trained and knowledgeable responders across the country.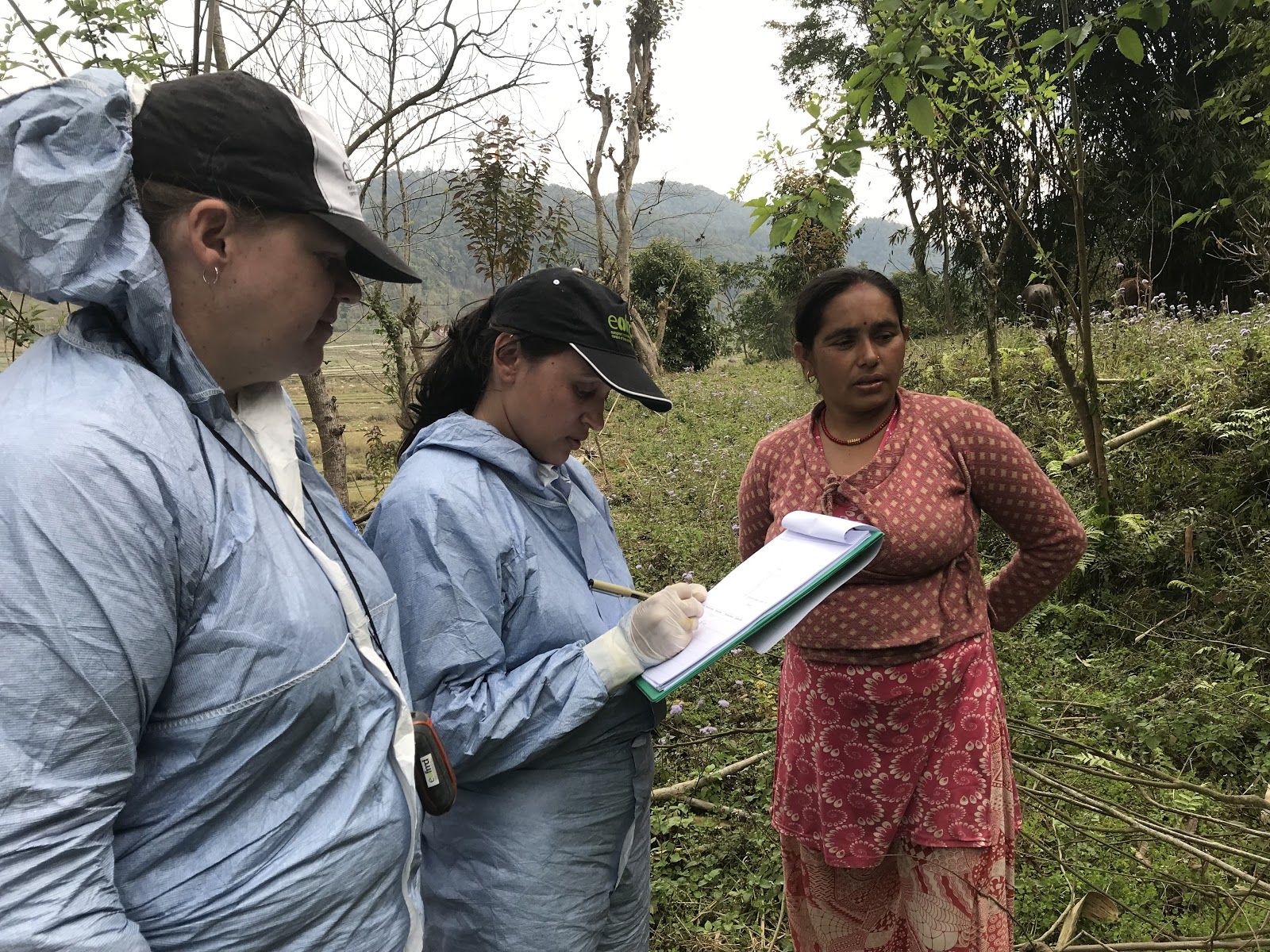 INVASIVE PLANTS AND ANIMALS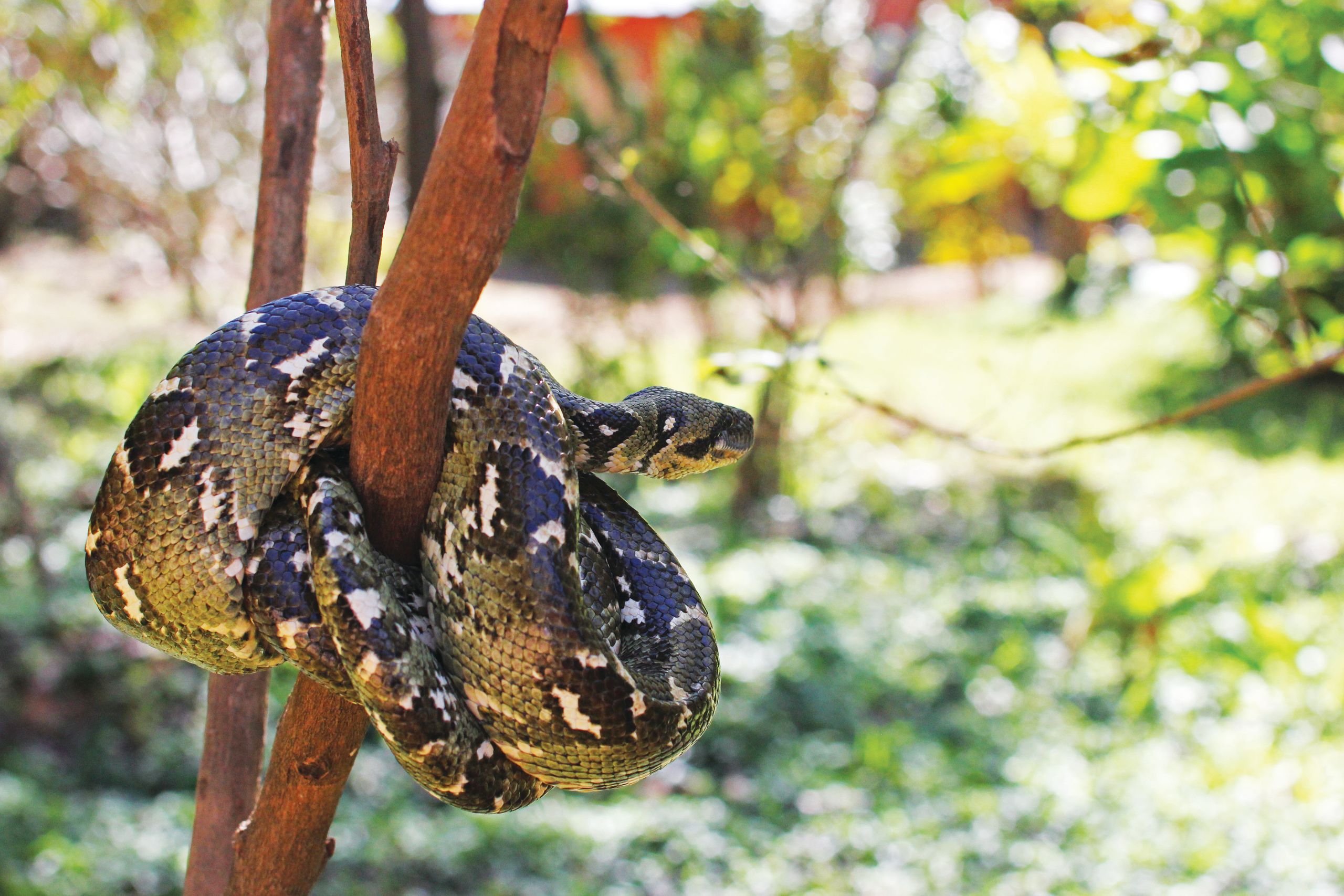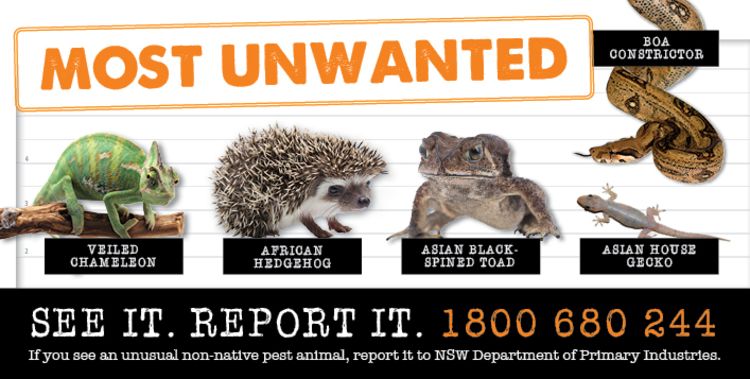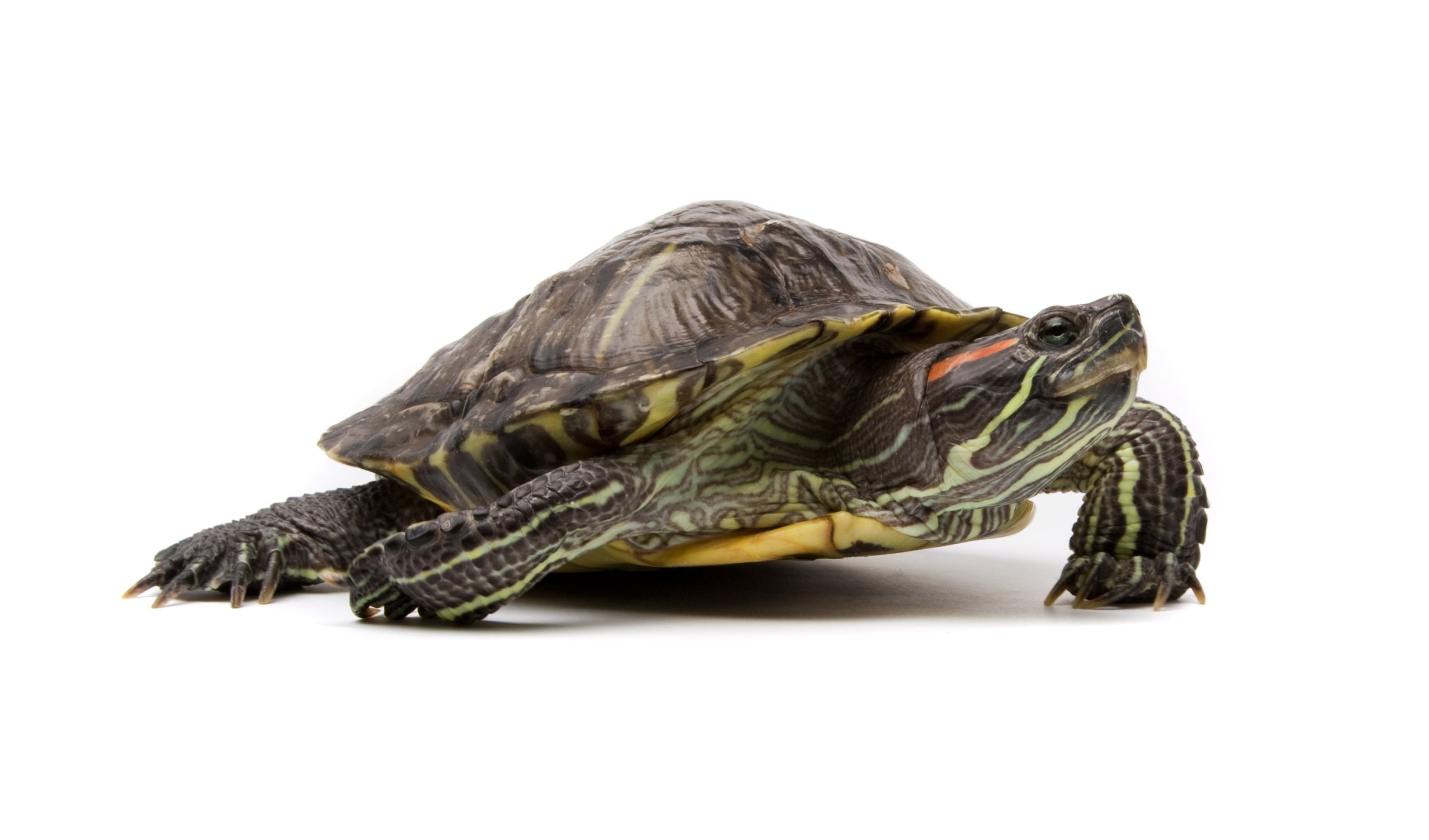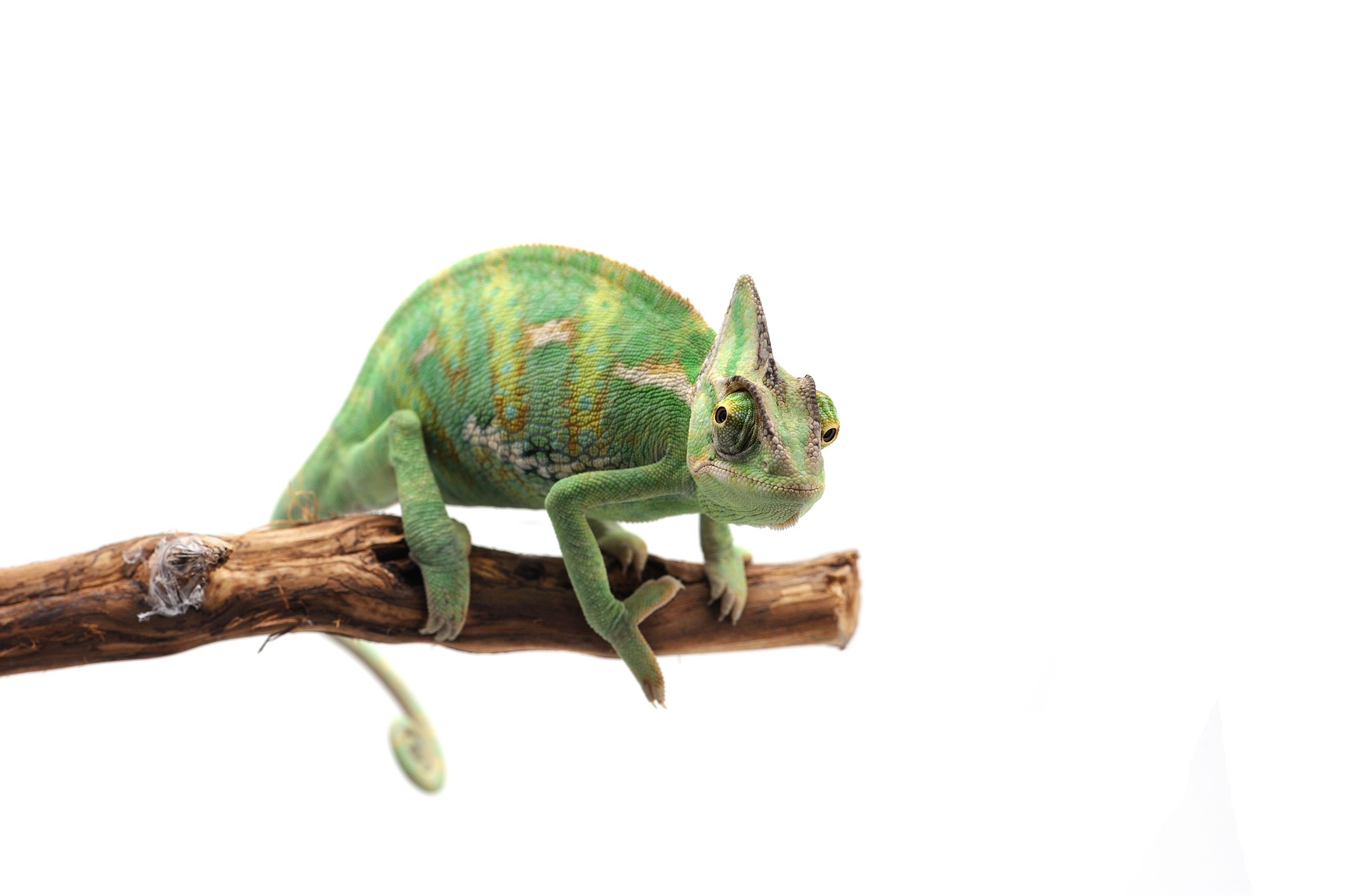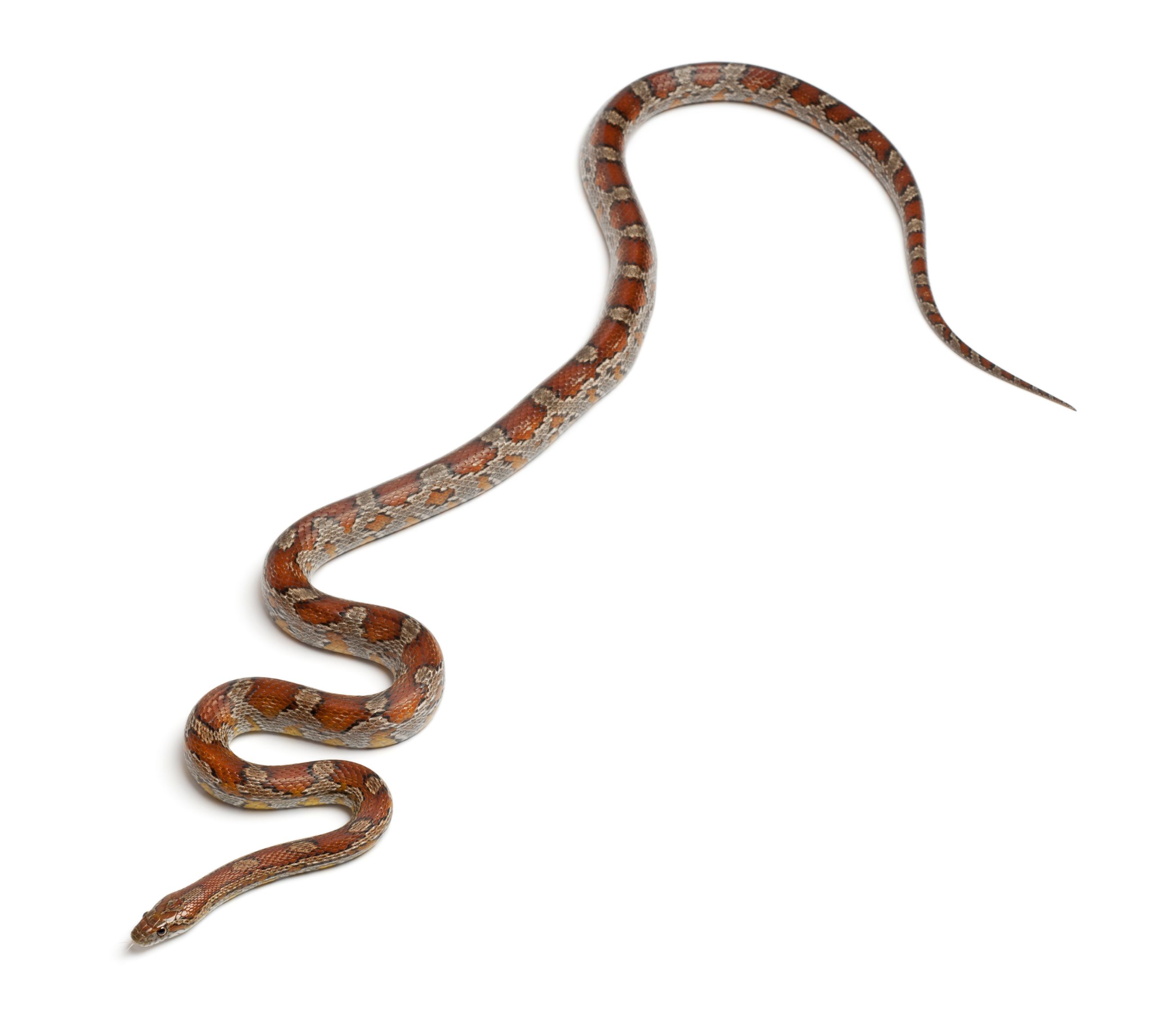 Help us spot our most unwanted
Non-native pest animals can have a negative impact on the natural environment and businesses as they can:
Prey on native animals
Compete with other animals for food and shelter
Destroy natural habitats
Potentially introduce exotic animal diseases
The NSW Government is committed to preventing the introduction and establishment of new pest animals and ensuring existing non-native animals in the state are managed effectively. A 'Most Unwanted' Campaign has been rolled out to encourage the people of NSW to look for and report non-native pest animals.
Top gong for NSW DPI staff
NSW DPI vertebrate pest staff have been recognised for their efforts in tackling Australia's rabbit problem.  
Dr Taryna Cox and Emma Sawyers worked in partnership with the Centre for Invasive Species Solutions (CISS) in the release of RHDV1 K5. RHDV1 K5 is a Korean strain of rabbit haemorrhagic disease virus that was released at 323 community sites and 38 state run sites across Australia in March 2017.  
The release of RHDV1 K5 was a large scale experiment in citizen science with multiple government, agricultural and community groups involved.
Landholders and community groups released the virus through baited grain or carrots and a National Biocontrol Monitoring Program was established to encourage the community to monitor the spread and impact of the virus.
The testing, assessment and release of the virus included CISS, the federal government, all states and territories, the CSIRO, Meat and Livestock Australia and the Australian Wool Innovation.
The scale of community response was demonstrated by 756 expressions of interest encompassing 1066 release sites being submitted by landholders and community groups wishing to release the virus.
It was the first time a biological control agent had been tracked digitally with online disease observation and sample submission tools developed through RabbitScan.
This allowed the community to track the spread of the virus and collect population counts before and after the release of the virus. Through this 218 community release site data sets were collected and over 1000 rabbit tissue samples analysed, giving a picture of the virus' distribution.   
Analysis of this data showed an average national decline of 34 per cent in rabbit numbers just one month after release across release locations.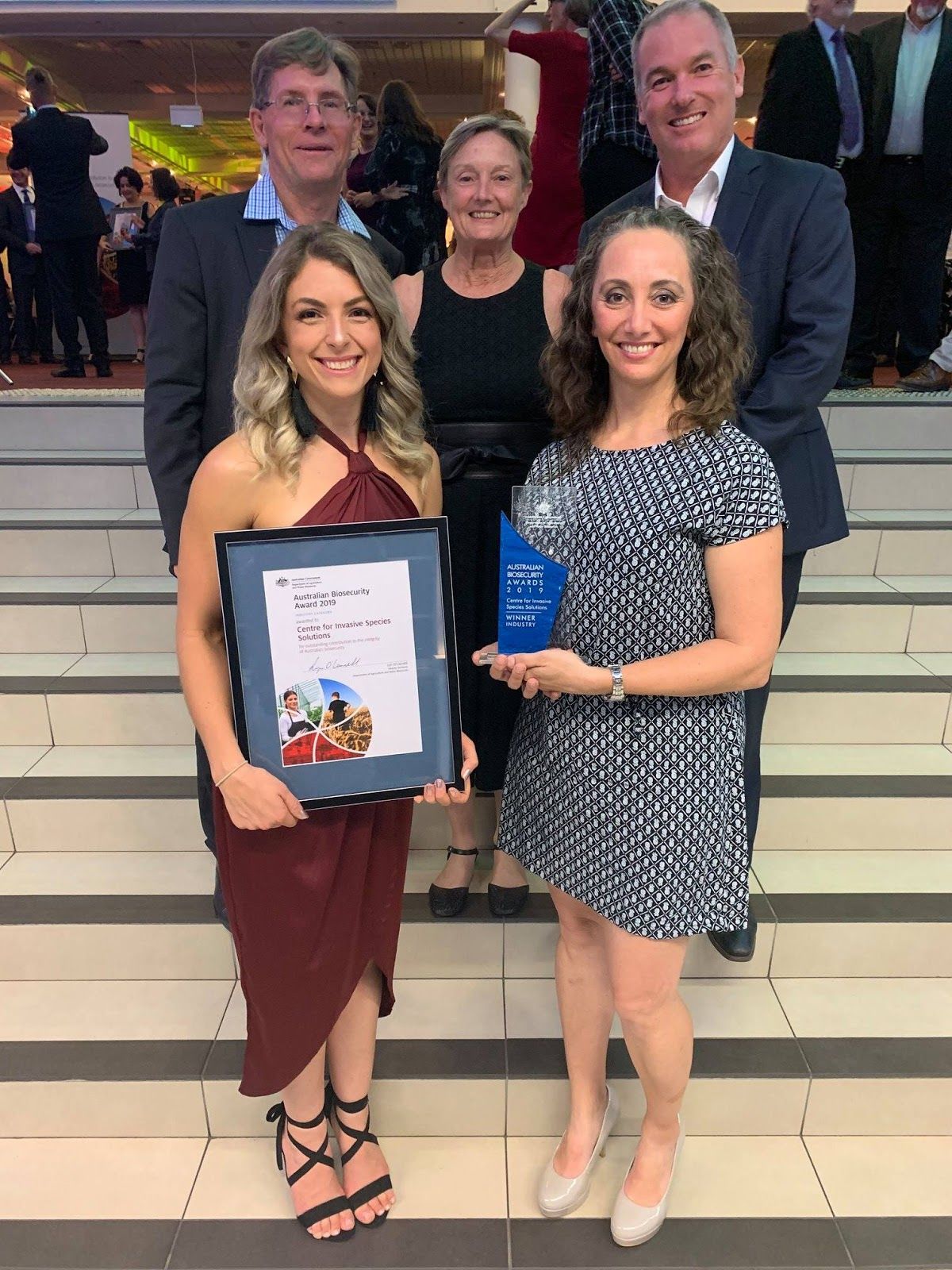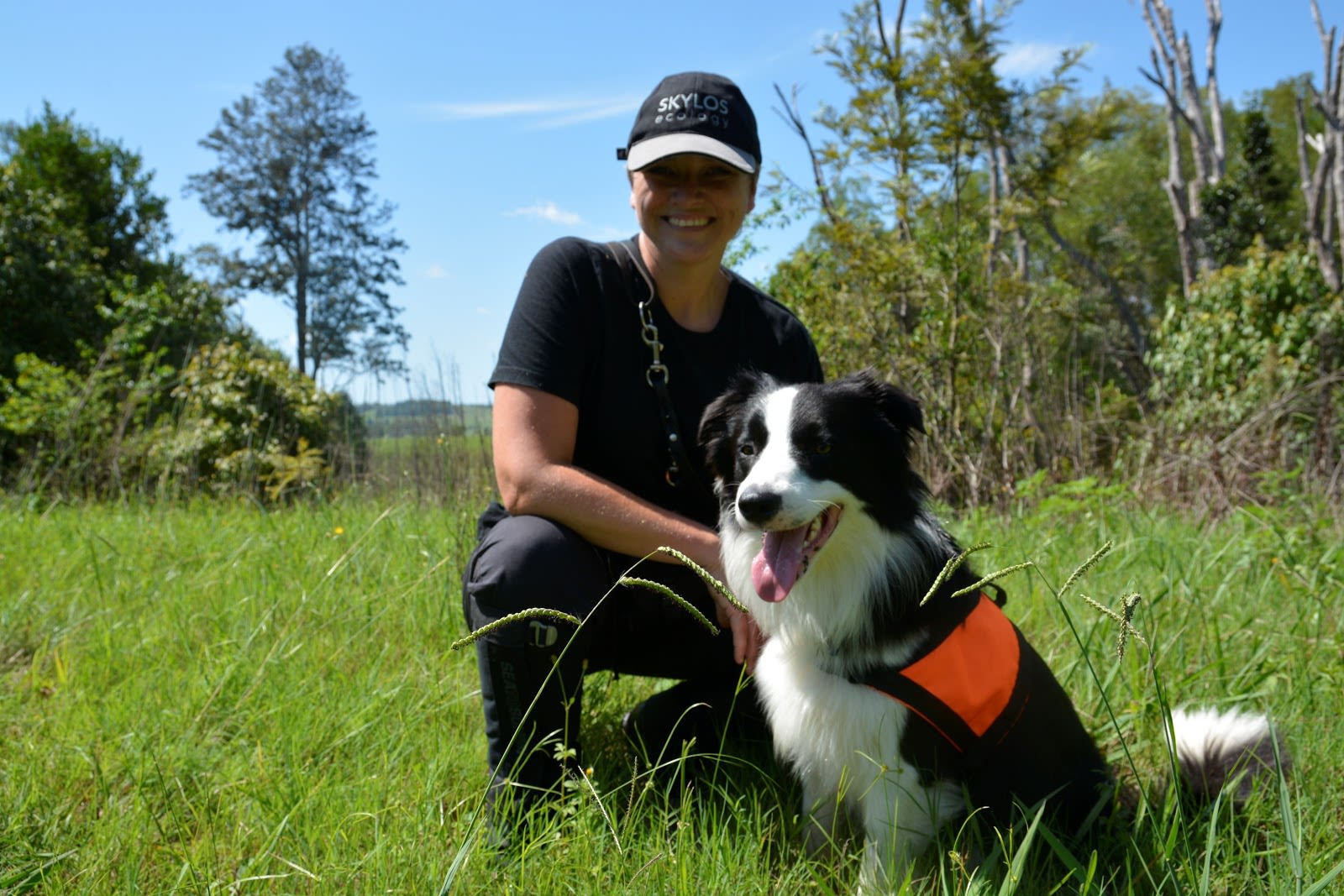 Oakley nose his alligator weed
A new recruit is training at Grafton Agricultural Institute to join the fight again one of Australia's worst invasive weeds.
Oakley is a two year old border collie who has joined the team and is in training to detect alligator weed. Oakley had already trained in the detection of bird and bat kills around wind farms but he's now turning his sharp senses to this harmful environmental and economic threat.  
Alligator weed is thought to have been introduced to Australia in cargo ships around Newcastle during World War II. There is now an estimated total area of 3,950 ha of known alligator weed in NSW, with 2,500 ha of terrestrial infestations and 500 ha of aquatic infestations occurring in the Lower Hunter region.
One of the reasons alligator weed is such a significant threat is because of its ability to easily spread. It can grow in land or on water and in tropical or cool climates. Eradication is extremely difficult and early detection is the best treatment. That's why Oakley's work is so important.
A recent move from Victoria to the NSW North Coast by Oakley's handler and a request for assistance from Agriculture Victoria has given NSW DPI Invasive Species Programs and the Grafton Primary Industries Institute the opportunity to participate in the training. DPI Invasive Species unit is aiding the training by organising a training site at the Grafton Primary Industries Institute and field trials on alligator weed sites on the North Coast. NSW DPI have also supplied alligator weed samples for the training.
Once his training is complete, Oakley will be based on the NSW north coast and will be put to work helping local control authorities detect alligator weed infestations.
Oakley joins 'Jet' the English Spaniel, who in recent months has been hard at work in the effort to eradicate yellow crazy ant from Lismore, and other highly specialised sniffer dogs across Australia helping us manage our biosecurity.  
Oakley, Jet and their mates play an important role in the effort to keep NSW free of pests, disease and weeds and complement the efforts of biosecurity aware residents who report unusual pests every day.
Good news in the fight against yellow crazy ant
A major blitz in February has found that yellow crazy ant has been contained in the Lismore region.
More than 600 properties were door knocked as part of the blitz, which was designed to work out whether the ants had spread beyond already identified areas. The blitz saw approximately 60 staff from NSW Department of Primary Industries, Local Land Services, NSW National Parks and Wildlife Service, Rous County Council, Lismore City Council, NSW Apiarists Association and community volunteers door knock properties across Lismore.
As well as a visual inspection, non-toxic sticky traps were deployed and collected for analysis.
Yellow crazy ants were first detected in the Lismore CBD in May 2018 and shortly afterward north of Lismore at Terania Creek. They are thought to originate in Africa and are listed as one of the world's worst 100 invasive pests.
Since the initial detection NSW DPI and Local Land Services have been working to eradicate this nasty pest. The treatment program will continue and its success will be monitored.